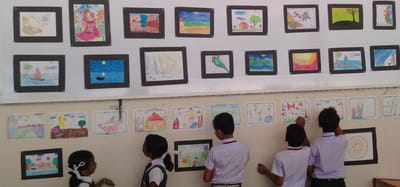 Hi everyone,
''Creativity won't just increase your child's chances of becoming a marks scorer. It is also helping him/her to develop mentally, socially, and emotionally''. Art may seem like fun and games but you may not realize that your child is actually learning a lot through exploring the arts and doing art activities. Your children will gain useful life skills through art, so encourage them to get creative, and you will quickly see that your children are picking up multiple skills and intelligence. If you really want to boost their creativity naturally, let children free to draw and paint. That way, they can give free rein to their imagination and creative expression. Let them to explore with different materials such as crayons, clay, water colours, poster colour and Acrylic colours, even walls etc.
Mother India Public School conceptualised the third phase of Online Exhibition in these pandemic days, the first two was videos but now it is showcasing through a webpage. The categories are divided by the classes and each class contains similar age groups. In fact, I am proud to present a number of children with their creative flames.
Please do watch!
Jeevan Lal P N
Art Educator, Visual Artist.